Warehouse Cooling Solutions
Warehouses are notoriously hard to heat and cool, leading to numerous operational challenges. But warehouse fans from Air Movement Solutions help you overcome those obstacles, improving worker performance and reducing heating and cooling costs.
Industrial Warehouse Fans to the Rescue
Warehouses that are too hot and humid reduce productivity, increase the chances of heat-related illnesses and hurt worker retention efforts. Warehouses that are too cold also lower staff performance. Industrial warehouse fans turn those problems around, allowing you to create a safe, productive environment for your workers. AMS ceiling fans for warehouses make a real difference in your bottom line.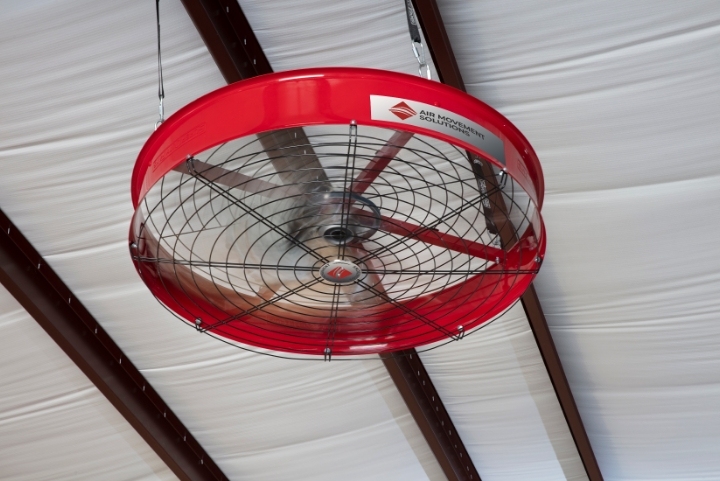 The Benefits of Warehouse Industrial Fans
Keep your warehouse safe, productive and comfortable with warehouse industrial fans from AMS. Our products help you:
Boost productivity
Lower perceived temperatures by nearly 10°F
Reduce the effects of humidity
Improve employee retention
Cut winter heating costs by as much as 30%
Create savings year-round
Protect Your Products With Large Warehouse Fans
Large warehouse fans, like our HVLS (high-volume, low-speed) fans, provide significant benefits regarding humidity control. Warehouses often grapple with issues of high humidity, which can hurt stored products, especially those sensitive to moisture. The strategic use of industrial fans for warehouses helps improve airflow and maintain a steady humidity level, thus helping prevent the growth of mold, mildew and other potentially damaging factors.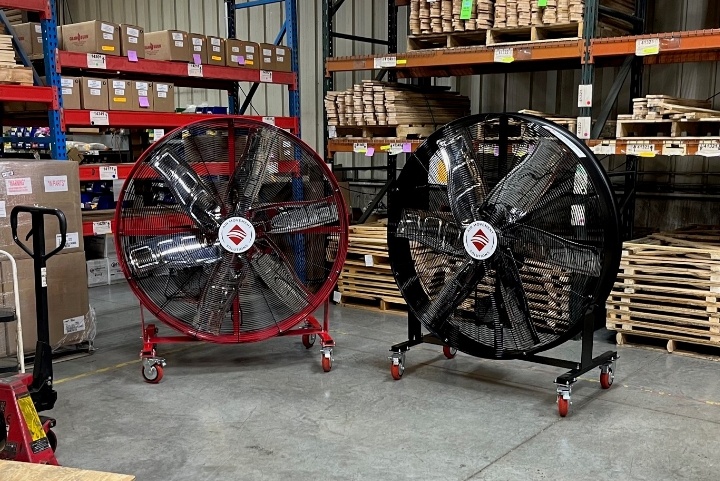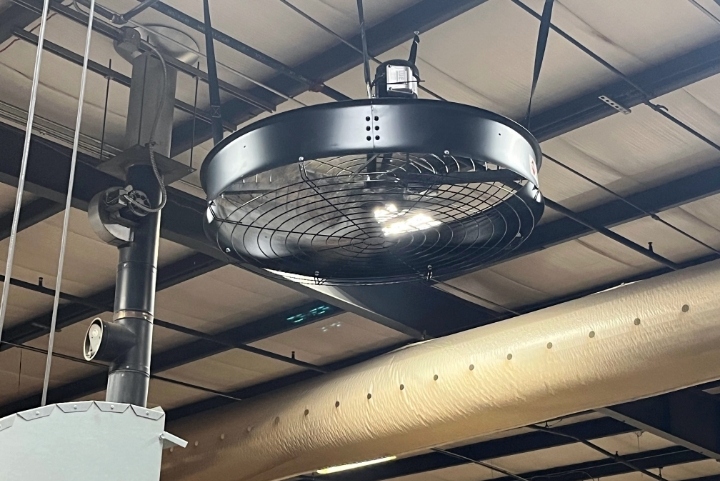 Warehouse Cooling Fans Cut Energy Consumption
Energy efficiency is another notable benefit. A warehouse cooling fan reduces the need for expensive air conditioning systems. Our directional warehouse fans more evenly and efficiently distribute warm air in the winter and cool air in the summer, lowering energy consumption and operational costs.
Warehouse Ceiling Fans Empower Employees
In large warehouses, stagnant air and temperature imbalances can become prevalent, leading to unfavorable working conditions and potentially impacting the integrity of stored products. With the help of warehouse ceiling fans, airflow can be dramatically improved, ensuring a more consistent and comfortable temperature throughout the facility. This can help prevent cold and hot spots, protecting workers and products stored within your warehouse.
Safety and air quality are often overlooked benefits of warehouse fans. By circulating the air, fans help disperse potentially harmful airborne substances, such as dust and other pollutants, thereby improving the overall air quality within the warehouse. This, coupled with reduced condensation on floors due to better humidity control, leads to a safer work environment with fewer risks of accidents or health complications.
Frequently Asked Questions About Warehouse Fans
As a leading supplier of industrial warehouse fans, AMS is uniquely positioned to answer your questions. Read on for the information you want, and feel free to contact us for additional details.
How Many Warehouse Fans Do I Need for My Facility?
We recommend purchasing one warehouse fan and installing it. After experiencing its fantastic air circulation, you'll know if you need to buy more.
Where Do You Make Your Warehouse Industrial Fans?
We proudly manufacture and assemble our warehouse industrial fans in the U.S.
When Will My Warehouse Fan Ship?
Our turnaround time on warehouse fans is usually 10 business days.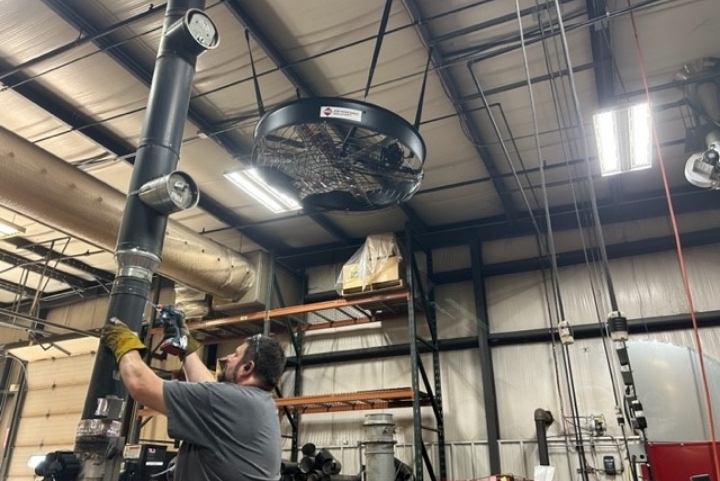 Trust AMS for All Your Warehouse Fan Needs
The global industrial fan market is expected to reach $12.6 billion by 2028, and large warehouse ceiling fans will play an essential role in that trend. You can rely on Air Movement Solutions to provide the warehouse fans you need for your facility. Start shopping now to take advantage of everything we offer.